Do you remember the famous Norman Rockwell image of that sweet family around the dinner table? Every person is glowing with happiness like someone is just getting to the punchline of a really funny joke. Everyone's water is filled, the silver is polished, the turkey is perfectly brown (I'm sure the gravy was awesome, too), and even the one child at the table seems to have it together.
Sounds JUST like one of your family meals, right?
What?! You mean sometimes the water gets filled after dinner is on the table, the silver is tarnished, and your turkey looks a little pale even though you did everything Martha said?
Yeah, me too.
Mr. Rockwell seems like a very nice man, from what I can gather, but clearly he wasn't near a dinner table like mine. We eat meals at home 6 nights out of the week and I haven't felt peace like that lovely painting depicts in a very long time. Date night is a total exception, of course :) I'm totally okay with this fact because these are three of the people who sit at my table: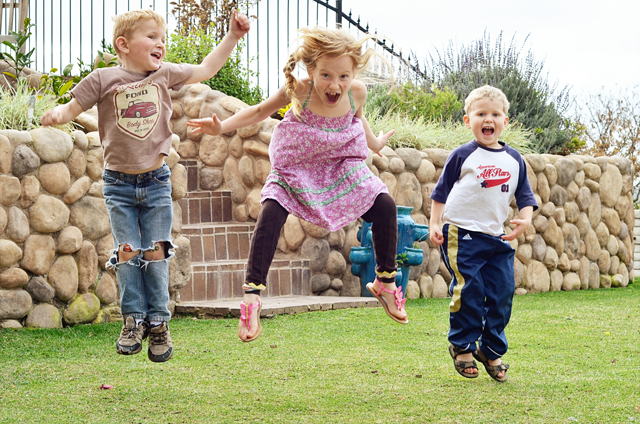 Cute? Yes.
Quiet by nature? No.
I love them so dearly...craziness included.
We all want to be able to invite people into the craze and still make them comfortable and loved. In my opinion, the best way to do this is through food and drink. Clearly, God wants us to remember why He has blessed us with food: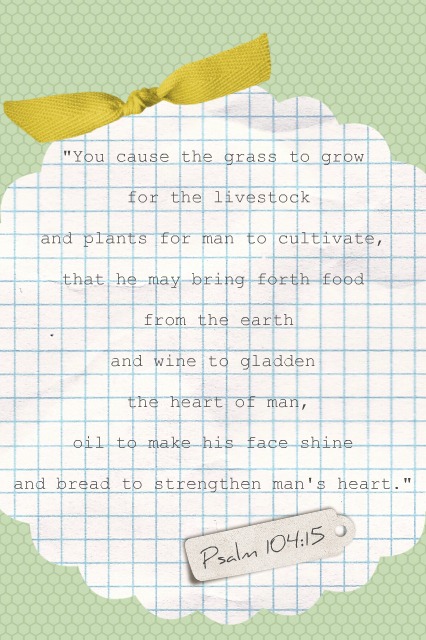 When God's people were starving in the wilderness, God sent bread and meat. When people in the Bible got together in groups, they seem to "feast" a lot in general (there were a great number of feasting days set apart, as well). When people had gathered for a whole day to hear Jesus speak, he FED them. Jesus seemed to even enjoy a good party and went so far as to make more wine for THE Cana wedding, remember? I mean, even the very thing that God gave for us to remember His ultimate sacrifice on the cross is a MEAL and celebration.
I don't know about you, but I get the impression that food and happiness go together. So awesome. That doesn't mean we should eat donuts for breakfast every day because it makes us happy, but it's nice to know that God thinks food is so important.
When I think of having someone over, my thoughts immediately go to my dirty floor, what I do or don't have in the fridge to feed people, will I even have time to make the meal after I go to the store to get the things I don't end up having, and will they enjoy their dinner if one of my kids asks 17 questions at the table. However, I'm TRYING to forget about that floor and just reach out to people in my life. I'm trying to remember that I am the one putting the pressure on myself to fulfill a certain expectation as a hostess. Once I let that guard down, I noticed that most of my friends are just happy to hang out. It doesn't matter what we eat or how many questions my kids ask about what kind of chicken died that's on their plate (true story). They seek friendship. Food is a bonus. Who knows? Maybe the floor in the Norman Rockwell picture was dirty. I guess we'll never know.
The lovely
Rachel's words
the other day meant so much to me while I was writing this post.
"It's about what I'll do for Him (and my neighbor) now."
Truly.
There are people who need our help this week. We might not know their struggles, but they NEED the love of Jesus.
I intend to reach out to more people this week (maybe even some strangers?) and hopefully take a little box of cookies with me. I keep dough in my freezer for such occasions. That way, if a friend is "coming right over" I have something to serve to bring a smile to their face and spread some joy. If a neighbor is having a rough week, I can throw cookies in the oven and not put it off because I "don't have time" to mix some dough.
I wanted to share this particular recipe because it's a sliced cookie dough recipe. This means you cut it from the log straight out of the freezer without needing to thaw it. It's kinda perfect for last-minute baking . Since I've been seeing earl grey everywhere these days (mildly obsessed, I am), I thought I'd share this earl grey tea cookie. Bright, floral, and citrus-y flavors and so comforting for a late-winter treat.
So, who's gonna host a meal this week?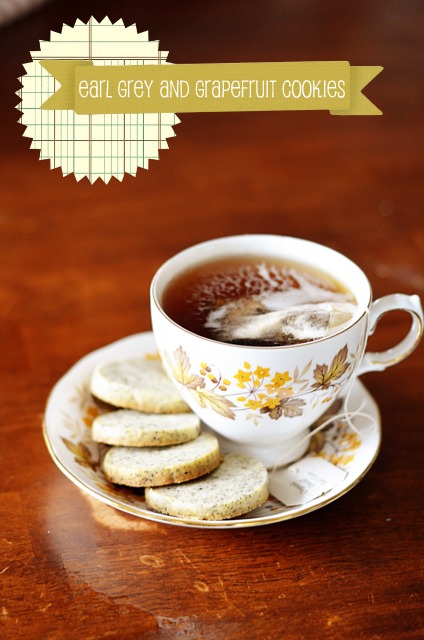 Earl Grey Cookies with Grapefruit Zest
(adapted from Martha Stewart)
2 T. earl grey tea, from tea bags (ground)
2 c. flour
1 c. butter (2 sticks), room temperature
1/2 c. confectioner's sugar
1 T. grapefruit zest
Combine the tea and flour in a bowl. In your mixer bowl or another bowl, mix the butter, sugar, and grapefruit zest on medium until pale and fluffy. Turn the speed to low and add flour slowly until just combined. Separate the dough and roll each in a separate piece of parchment paper to form a log. You want the log to be about 1 1/2 in. thick. Twist the ends and freeze for at least an hour or until you are ready to use them. Once ready, pre-heat the oven to 350 degrees, cut the logs into 1/4 in slices, and bake about 12-15 minutes. Cool, eat, and share!