Prior to our son's Asperger's Syndrome diagnosis, I was in a constant sea of frustration. I could not understand his inability to be part of the group in any social situation.
After the diagnosis, there was a sense of relief in at least we knew WHY he didn't interact with other children at birthday parties, the park, and play dates. I finally knew why he picked up leaves in the school courtyard while waiting for preschool to start instead of playing tag with the other boys and girls.And while my heart was initially heartbroken over his lack of ability to coordinate play with others, at least we had an answer.
I have come to value how God has created Luke; diagnosis and all.Instead of seeing his time by himself, as I would if I were in his shoes, as loneliness, I now admire his freedom. He does not care what other's think. He does not cave into pressure from peers, and he is more sure of who he is and what he likes more than any other nine year old that I've ever known.
But there are times when insecurity about his atypical behavior gets the best of me. There are times when I try to change him to make him more like his typical peers.
However, God always is there to remind me that Luke does not need to be changed. Luke is Luke. He was made by a God who is bigger than Asperger's Syndrome.
We joined close friends of ours at the beach last weekend. While all the other kids immediately conjured up ideas of grand sand castles and set to work, Luke struggled.
He wanted to go home.
He didn't want to get wet.
He refused to wear his swim trunks.
He declared he was "bored" multiple times to the point that I began to threaten consequences.
But in typical Luke form, he just needed to adjust.I should know that by now. And once he did, he spent his afternoon on a quest for sand dollars.
I watched him investigate the grains of sand as he looked for that perfect prize while the salt water washed over his feet and my heart swelled with contentment.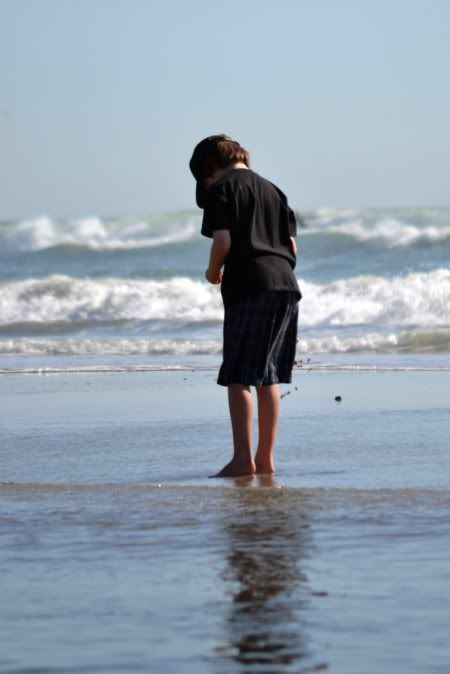 He is exactly the Luke God made him to be.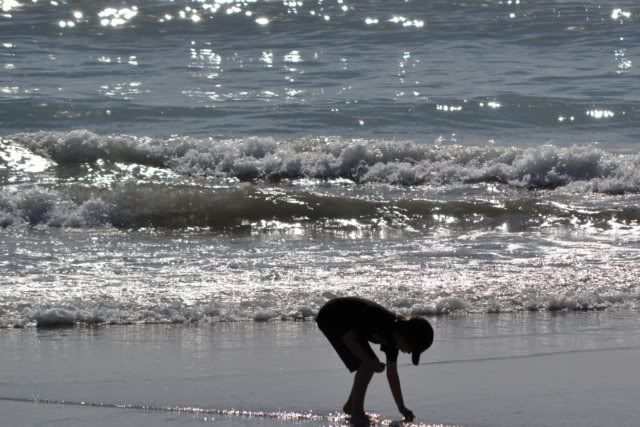 I could not be more grateful. I would not want him to be any other way than fearfully and wonderfully made by the One who loves Luke more than I can comprehend.
I praise you because I am fearfully and wonderful made; your works are wonderful, I know that full well.