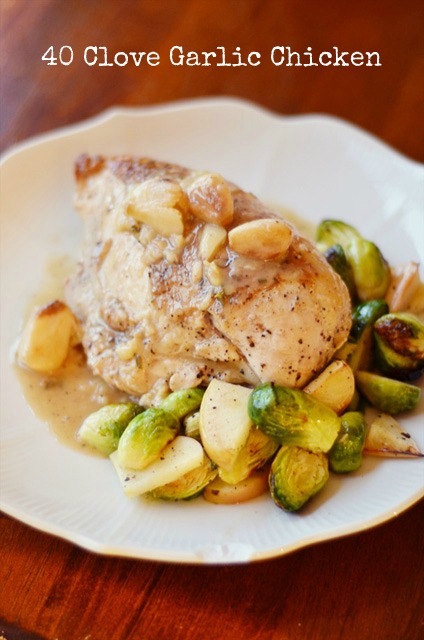 Garlic.
It is wonderful. It is awesome. It is a lovely gift to its often boring friend, Mr. Chicken.
This dish begs for friends to gather and partake of it. Garlic, slowly simmering with wine into a marvelous sauce, is exactly what a group of buddies needs to just relax and enjoy each other's company. Bread should also be involved, if possible. It's a great dish to take someone who just had a baby (like
Rebekah
soon!) or someone who is unwell.
I love the way God brings people together around a table, sharing delicious food and uplifting conversation. We need those close friends around, to remind us of the joy we have in Jesus, which often gets pushed aside by every day life. I've had some of those joy-less moments recently but am so thankful for friends God has placed so carefully around, to comfort me with His promises of peace and rest. When I share a meal with these wonderful friends, their words means so much more than what can be written in an e-mail, blog comment, or text. Hugs and tears are an important part of a relationship, that extend far beyond a computer or phone.
Food makes those moments happen.
So, let's make some food so we can invite our friends over :)
Sound good?
40 Clove Garlic Chicken with a side of brussels sprouts it is. Yes, brussel sprouts.
Friends, it won't take a lot of work at all...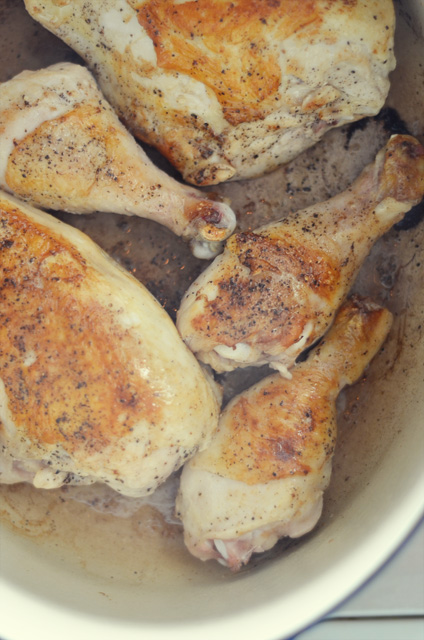 Start by patting dry and then browning your chicken in the butter or oil, like the steaming guys are exhibiting above. Medium-high heat works best to get nice coloring. Throw a little salt n' peppa on them while you're at it.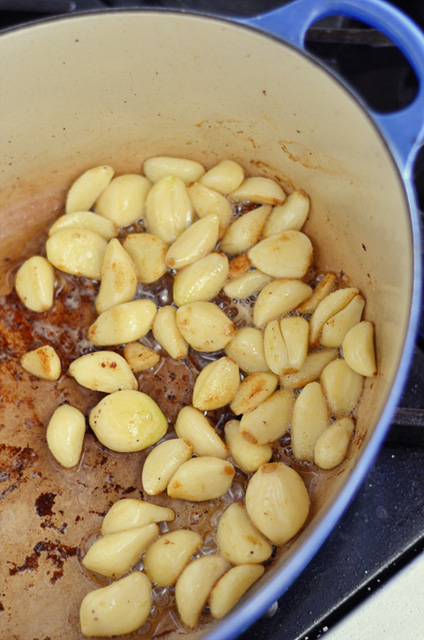 Saute the garlic until browned.
Mmmm. Sauted garlic.
Can You tell I love it?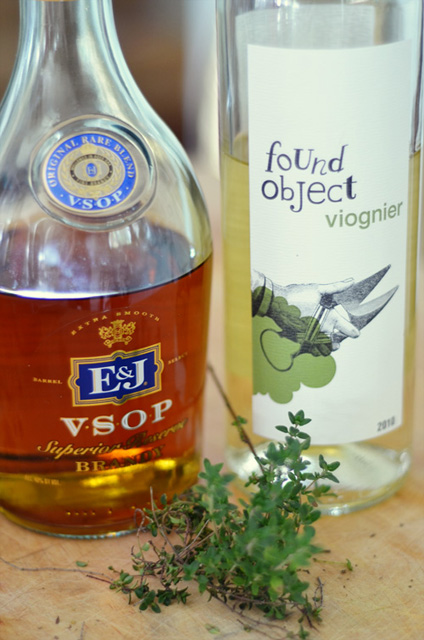 Next, add the Brandy/Cognac, wine, thyme, and parsley to the pan. Bring it to a boil. Return the chicken to the pan and cook on low with the lid on for 45 minutes or longer. Cooking it longer will cause the garlic to soften and therefore become all the more wonderful. Once cooked, remove the chicken and then stir the flour and milk into the garlic "sauce". Season with salt and pepper if needed. Pour some of the garlic sauce over the chicken and serve.
40 Clove Garlic Chicken
40 cloves of garlic (I always toss in a few extra)
2 T. butter or canola oil
1 whole chicken, in pieces
salt and pepper
4 T. Brandy or Cognac
1 1/2 c. white wine
1 T. thyme
1 T. parsley
3 T. flour
3 T. whole milk or cream
Roasted Brussel Sprouts with Apples
1 lb. brussel sprouts
1-2 apples, medium
olive oil
salt and pepper, to taste
curry powder, to taste
Cut the brussels in half length-wise and slice the apples. Toss both with some olive oil and salt and pepper. Shake on a bit of curry powder if you like. It helps to balance the bitterness brussels can have sometimes. Roast at 375 for 30 minutes or until tender. Sometimes I drizzle a little maple syrup over the top, once it's roasted, to help the littles out a bit. :)
Figure out who you're having over yet?